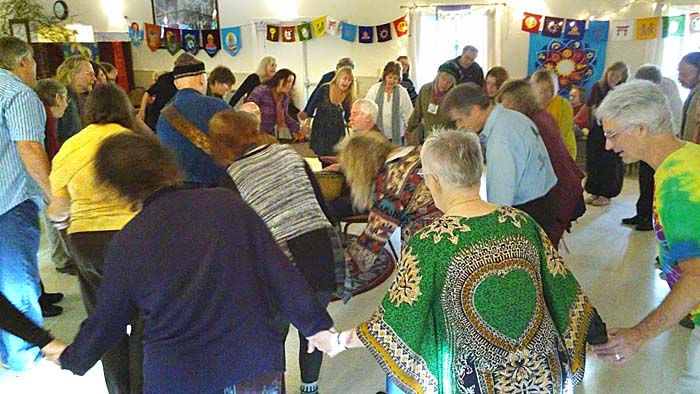 ABOUT THE DANCES
This dancing could be called spiritual practice in motion and is often referred to as Body Prayer.
This group of Dances, simple and profound, are set to sacred texts and mantras of the world's spiritual traditions. A Dance leader teaches participants the sacred phrase (lyrics), melody, and movements, often with live guitar and drum accompaniment.
Communication
DUP has chosen to switch over the community listserv to 
seattledup@groups.io
Please contact one of the moderators below to Request Invitation to the group: Helen 
helengabel@gmail.com
  /  Wakil 
drmatthewsusa@gmail.com
Fri/Sat/Sun – Nov 3/4/5, 2023 (please mark your calendars) Vashon Island, WA (Close to Seattle) In-Person -and- Online. We will have leaders from all corners of our region – Stay tuned and please sign up early. Includes dancing, lodging, and 6 fantastic meals prepared by Camp Burton staff.
Camp Burton registration form is here
Winter dance camps to be announced here soon.